World of Waterbeds
31 Llandeilo Road,
Crosshands, Carmarthenshire SA14 6NA
Tel & Fax: 01269 845555

After 24 years in Swansea on March 31st 2015 Swansea Waterbeds moved to its own shop on the main road in Crosshands with a lovely large car park and lots more space to display our wonderful waterbeds. As we are no longer in Swansea we also thought we had better change our name and are now trading as World of Waterbeds, though the people and everything else is still the same. Do come and visit the new shop and as always the coffee pot will be on to greet you. Also visit our new World of Waterbeds website

Swansea Waterbeds have been supplying quality waterbeds and water bed accessories throughout South West Wales since 1991, and is a family run waterbed store. In 2014 we were the countries biggest retailer of both luxury Danish Akva waterbeds and British Waterbed Company beds and we also stock some own brand waterbeds.




Play "Myth Busters" with World of Waterbeds where we have been dispelling those waterbed myths. You may also have heard our radio advert promoting the Akva Baby water mattress which fits into a standard cot - read more here.

This site shows a small sample of our range of beds, but you will see, (and can test sleep), up to a dozen more waterbeds when you visit the showroom, including the Akva waterbeds shown left. The website allows you to ask our experienced staff questions and to request information about any particular waterbed or our associated water bed products and services. Also our on-line shop allows you to purchase some water bed accessories and even a water bed.
If you can spare the time to come and visit our showroom located at 31 Llandeilo Road, Crosshands, Carmarthenshire, Wales; (we normally have about 10 different waterbeds on display and are the only only retailer of Akva and British Waterbed Company Ltd waterbeds in South West Wales.) You will be assured of a warm welcome (the coffee pot is always on) and you can try out all the waterbeds in a relaxed, friendly environment, with our expert staff at hand to answer any of your waterbed questions. To find us in Crosshands, click here for Google Maps or telephone for directions. If you don't have the time to call in, then we can always answer your waterbed question, (you don't have to be an existing customer), via the telephone.
Waterbeds Offer

Relief from backache, arthritis & asthma.
Recommended by doctors, surgeons and physiotherapists.
Temperature control: Warm in winter and cool in summer.
Floors do not need reinforcing to have a waterbeds.

We Offer

UK wide delivery
Free information pack
Expert advice
Friendly service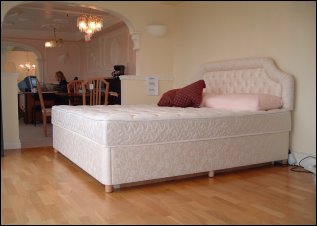 * Can not be incorporated with any other special offers
All Rights Reserved © 2005 - 2015 Waterbed Essentials Ltd. T/A Swansea Waterbeds and T/A World of Waterbeds
All images used with copyright owners permission.
Site built by JCT Designs - e-mail JCT Designs

To contact World of Waterbeds via email please use - info@worldofwaterbeds.co.uk